We Buy Gold – Cash for Gold in Bakersfield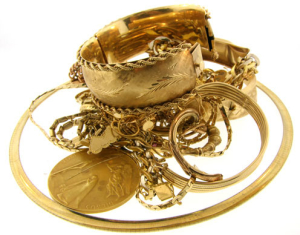 We Buy Gold – Get Cash for Gold in Bakersfield!
Do you have old or broken gold jewelry taking up space in your dresser or jewelry box? From broken chains and missing earrings, we're Bakersfield jewelry professionals who will give you the most for your old, broken, or unused gold.
Here at Roco's Jewelry in Bakersfield, we pay the highest price in town and can get you cash in minutes. Bring your gold by one of our convenient locations today!
We Buy Gold in BOTH of Our Bakersfield Locations:
Rosedale Location
9160 Rosedale Hwy, Suite #600
Bakersfield, CA 93312
(661) 587-9298
Hours
Monday – Friday: 10:00am til 5:30pm
Saturday: 11:00am til 4:00pm
Sunday: Closed
Ming Avenue Location
3769 Ming Ave
Bakersfield, CA 93309
(661) 834-0824

Sharon Anderson
20:02 28 Jan 23
Great business. Knowledgeable, reliable, courteous and honest.