We Buy Gold – Cash for Gold in Bakersfield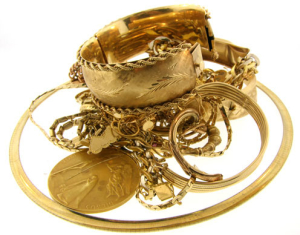 We Buy Gold – Get Cash for Gold in Bakersfield!
Do you have old or broken gold jewelry taking up space in your dresser or jewelry box? From broken chains and missing earrings, we're Bakersfield jewelry professionals who will give you the most for your old, broken, or unused gold.
Here at Roco's Jewelry in Bakersfield, we pay the highest price in town and can get you cash in minutes. Bring your gold by one of our convenient locations today!
We Buy Gold in BOTH of Our Bakersfield Locations:
Rosedale Location
9160 Rosedale Hwy, Suite #600
Bakersfield, CA 93312
(661) 587-9298
Hours
Monday – Friday: 10am til 6:30pm
Saturday: 11am til 6pm
Sunday: Closed
Ming Avenue Location
3769 Ming Ave
Bakersfield, CA 93309
(661) 834-0824
The custom pieces are amazing! We recently took in a ring that was left to us by our grandmother, wanting to have it broken into two separate pieces for my sister and I to have. The rings came out beautiful! We are beyond pleased with them!
Highly recommended not only do they have beautiful jewelry but the owners are wonderful people. They make absolutely stunning custom pieces as well. My favorite jewelry store!!!
I love the custom piece they made for me! I have been looking for a wedding band for 2 years and have been to countless jewelry places looking for a custom band. Everyone I went to besides Roco's told me they don't work in Silver. They made a tracer band to match my engagement ring exactly along the outside. I teared up instantly when i saw it. I recommend them to anyone and everyone who needs custom work on their items. I am extremely happy and satisfied.
Amazing people and amazing, beautiful jewelry!
I love this store!!!! Not only is the jewelry beautiful, the family is even more beautiful! This is the only place I will buy jewelry!!
I've been there twice to size, clean and have jewelry appraised. They have very nice jewelry and the service is outstanding. Highly recommended it.
TY Roco for taking such great care of me and fixing my Grandmothers wedding ring perfectly. I am beyond happy!!! It was so great speaking with you and having you share the history of the ring with me that I didnt even know. I cant wait to do more business with you!!
We have absolutely loved doing business with them! Amazing company, and family!
Rocos came highly recommended by a friend of mine. Now it is my turn to pass them on, they are not only very friendly and helpful but are AMAZING at what they do. Their custom pieces are beautiful! will only go to them for my jewelry needs.
Roco thanks again for helping choose the right gift for my wife. I know she will love it. you guys are the best!