We Buy Gold – Cash for Gold in Bakersfield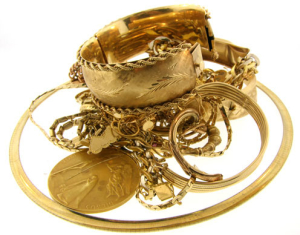 We Buy Gold – Get Cash for Gold in Bakersfield!
Do you have old or broken gold jewelry taking up space in your dresser or jewelry box? From broken chains and missing earrings, we're Bakersfield jewelry professionals who will give you the most for your old, broken, or unused gold.
Here at Roco's Jewelry in Bakersfield, we pay the highest price in town and can get you cash in minutes. Bring your gold by one of our convenient locations today!
We Buy Gold in BOTH of Our Bakersfield Locations:
Rosedale Location
9160 Rosedale Hwy, Suite #600
Bakersfield, CA 93312
(661) 587-9298
Hours
Monday – Friday: 10am til 6:30pm
Saturday: 11am til 6pm
Sunday: Closed
Ming Avenue Location
3769 Ming Ave
Bakersfield, CA 93309
(661) 834-0824

Michael Pinales
17:36 18 Jan 20
Great place! I just walked in to size a ring, and was greeted with great customer service! Very polite and very helpful, I also will be returning to buy a ring that was there, and they gave me a very good price! Thank you Michael Pinales Rocos is amazing! They have done great work on several pieces. Great customer service, friendly, local jewelry store. I cannot thank them enough for the beautiful work they do. Thank you!

Came back 3 years late to make a custom engagement ring and wedding band and Robert did not disappoint.