We Buy Gold – Cash for Gold in Bakersfield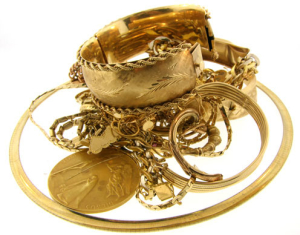 We Buy Gold – Get Cash for Gold in Bakersfield!
Do you have old or broken gold jewelry taking up space in your dresser or jewelry box? From broken chains and missing earrings, we're Bakersfield jewelry professionals who will give you the most for your old, broken, or unused gold.
Here at Roco's Jewelry in Bakersfield, we pay the highest price in town and can get you cash in minutes. Bring your gold by one of our convenient locations today!
We Buy Gold in BOTH of Our Bakersfield Locations:
Rosedale Location
9160 Rosedale Hwy, Suite #600
Bakersfield, CA 93312
(661) 587-9298
Hours
Monday – Friday: 10:00am til 5:30pm
Saturday: 11:00am til 4:00pm
Sunday: Closed
Ming Avenue Location
3769 Ming Ave
Bakersfield, CA 93309
(661) 834-0824

Louis Francis
01:23 01 Oct 23
Because I am a longtime customer of Roco's Jewelry my broken jewelry was repaired at no charge. Amazing jeweler Was looking for a special 30th Anniversary ring & I wanted platinum with 3 rows of diamonds. I looked high & low at every local and on-line retailer. The only place I could find that combination was at a particular big-box outlet, but it wasn't the right size and definitely not where I wanted to buy a special ring. I went to Roco's to ask if they could resize a platinum ring, and also to ask if they could make something similar. Pam's answer was yes and yes! I sent a picture of the ring I needed and Alex took it from there. He designed a ring that was amazing and had 31 diamonds instead of the original's 28. The price was also very reasonable, especially for a beautiful custom piece. My only mistake was not going to Roco's first!